Tips For Your Lettering Tattoo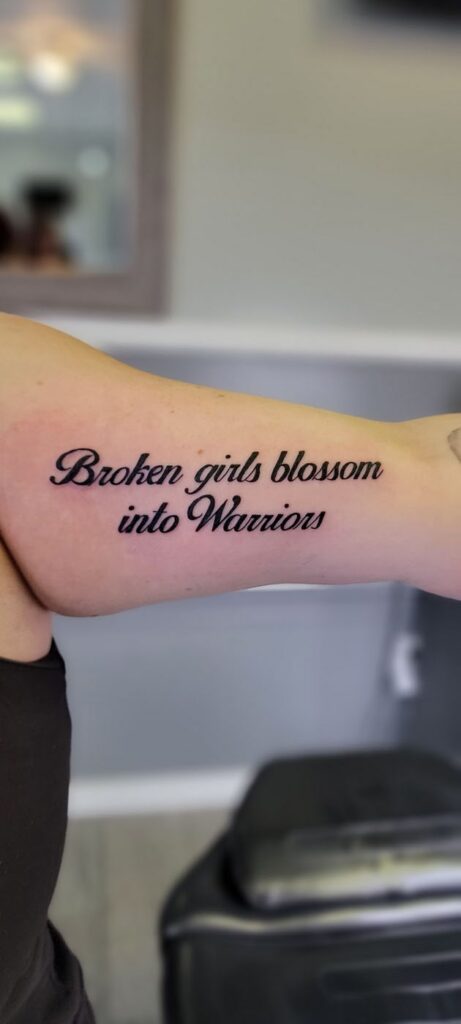 At Stick Tattoo, we often have clients requesting lettering tattoos, so we wanted to share some tips to ensure you receive the best tattoo, and have the best experience possible! Tattoo lettering has been popular for many years because, for many, expressing meaning, emotion or remembrance is often easier with words than pictures. There are a number of ideas and concepts that you can do with lettering or word tattoos, such as:
Motivational or Inspirational Quote Tattoos
Memorial Quote Tattoos
Signatures of Loved Ones
Family Quotes/Saying Tattoos
Bible Verse Tattoos
Patriotic Lettering Tattoos
And More
The unique possibilities for lettering tattoos are endless, which is a great way to help create something that is special or meaningful to you.
Below are a few tips to ensure you receive the best tattoo, as well as help you understand the tattoo process — including steps needed from you!
Research the artist and their portfolio.
The first step before getting any tattoo is to research the quality and skill of the various tattoo artists. But when it comes to lettering/words – it's important to go a step further and seek out tattoo artists who specialize in strong lettering tattoos and fine line tattoos. Often, customers will make the mistake of seeing some great tattoos that catch their eye in portfolios, but that are nothing like the tattoos they are wanting to get. Not all artists enjoy or specialize in lettering tattoos, so this will help ensure you find the right artist for your style tattoo!
Know your quote and check the spelling and accuracy.
Our shop has tried to make it as easy as possible for customers to submit tattoo requests, including our website, social media, phone and in-person, but this convenience can sometimes get challenging with word or lettering tattoos for a couple reasons. Often, clients will request a quote tattoo without knowing specifically what they want. While we appreciate and encourage the excitement, it is very difficult to schedule your appointment with the right artist, and for the right amount of time if YOU do not even know what you want. This will also help prevent multiple last minute tattoo design changes, which can end up costing you more time (and more money).
We also strongly recommend proofing (and re-proofing) your tattoo lettering quote before submitting a request for an appointment. When we receive a tattoo request, we put that exact information into our system, and that exact letting us what the artist will ultimately use to create your tattoo. It is your responsibility to ensure the accuracy, grammar and spelling of the tattoo, prior to your appointment. We have some extremely talented artists, but we are not spell-checkers, able to decipher slang/concepts or ensure accuracy on long quotes. You will always have the opportunity to view and proof your lettering BEFORE it gets tattooed, but we strongly suggest you ensuring its accuracy from the start!
Selecting a font for lettering tattoos.
Selecting the perfect font for your lettering tattoo is a fun and important part of the process, but can also be a pretty challenging aspect due to the endless number of fonts available. Because of this, we require our tattoo lettering customers to research and select the right font for their tattoo prior to their appointment. Our artists will always provide some guidance and tips, based on your specific tattoo and meaning, but it is very important that you research and find the right font to ensure you like the tattoo for the lifetime of the tattoo.
There are a number of styles that you can choose from, including script, handwritten, bold, typewriter/book, old english, delicate/fine line and custom. We recommend looking on such websites as www.DaFont.com or 1001freefonts.com, which allow you to preview your specific quote in the various font styles. Once you have narrowed it down to 1 or 2 fonts, be sure to screenshot or save your quote in that lettering, as well as ensuring you tell us the font name, in case it is not in the screenshot.
**** Please keep these few things in mind when selecting a font:
Intricate fonts, or fonts with thick and thin lines do not make for good tattoos. This also applies for fonts that are very condensed or close together. As your tattoo ages, it will naturally expand within your skin. Intricate fonts will naturally begin to expand, and overtime may distort the quality and legibility of the tattoo!
Your tattoo lettering size MUST be at least 1/2″ tall or more. Tattoos less than this size will not last or hold up their legibility and quality well long term, which is why our artists will not tattoo small lettering.
We do not suggest certain areas for your lettering tattoo, such as the side of your fingers, the side of your foot, or within any natural bends or creases on your body (like the wrist crease or elbow ditch). Depending on how much tattoo coverage you have, our artists may refrain from any hand, neck or face tattoos.
Stylizing your lettering tattoo
In addition to the font and style of your tattoo, there are also various styles and techniques that our artists can do to customize your tattoo, such as reverse lettering, shading, gradients, recreating signatures or handwriting, outling and more. If you have ideas or examples of the style you are wanting to have tattooed, be sure to include those references with your tattoo request, or bring them with you for your consultation. If you are looking for something really custom or stylized, we highly recommend an artist consultation, and may require it depending on the tattoo and/or selected artist.
If you have questions, please just ask!
We realize that there still may be questions, ideas or clarification on various fonts, so please do not hesitate to contact us with examples of your lettering tattoo, font and design and our front desk team and artists will help talk you through the process to ensure you are happy and comfortable with your final design.